Introducing Google Analytics 4 (GA4) Migration
Change is just around the corner in the analytics world. In less than a month, Google is officially dissolving Universal Analytics and rolling over to Google Analytics 4. Change can be scary, but it can also be an opportunity for growth and improvement. With the Google Analytics 4 migration, you'll have access to new features that can help you better understand your website or app's performance. One of the most exciting new features is the ability to track cross-device and cross-platform interactions, which will give you a more comprehensive view of user behavior. Additionally, GA4 is designed with privacy in mind, so you can be confident that your data is being collected and used ethically.
Although this change might seem frustrating, there are many advantages and new benefits to the Google Analytics 4 migration. Don't be afraid to embrace this change - it could lead to even greater success for your business. At Cork Tree Creative, we understand the importance of a seamless GA4 migration plan for your business. Our team has a wealth of experience in this area and can provide the expertise you need to make the transition as smooth and efficient as possible. Rest assured that we'll take care of it, so you don't have to worry about your Google account.
Google Analytics 4 vs. Universal Analytics
Many people might be wondering why Google would change its analytics program. A little over 28.1 million websites use Google Analytics, and this number is only projected to grow. Creating an entirely new platform may seem useless, but the new features on Google Analytics 4 will make website tracking more accessible and efficient.
The most significant driving force in creating GA4 is privacy laws. With substantial public concern and awareness about online privacy, along with new regulations like GDPR in Europe and Innovative Perioperative Technologies (IPT), Universal Analytics' data tracking method is outdated and unethical. In order to continue collecting data through Google, it is necessary for your business to migrate since UA is no longer collecting data. This step is mandatory and will ensure that you are able to continue tracking and analyzing the performance of your website or application.
The main difference between Google Analytics 4 and Universal Analytics is that GA4 can be used on websites and applications. Before GA4, Google Analytics could only track data from websites, and if a website wanted metrics from its app, it had to use a different application like Firebase. The Google Analytics 4 migration collects data from both sources, it makes the analytics' job much easier.
Aside from this main difference, there are three important updates to the program, which are event-based data, hit type changes, and the ban on cookies. Learn more about these changes and what they mean for your Google Analytics.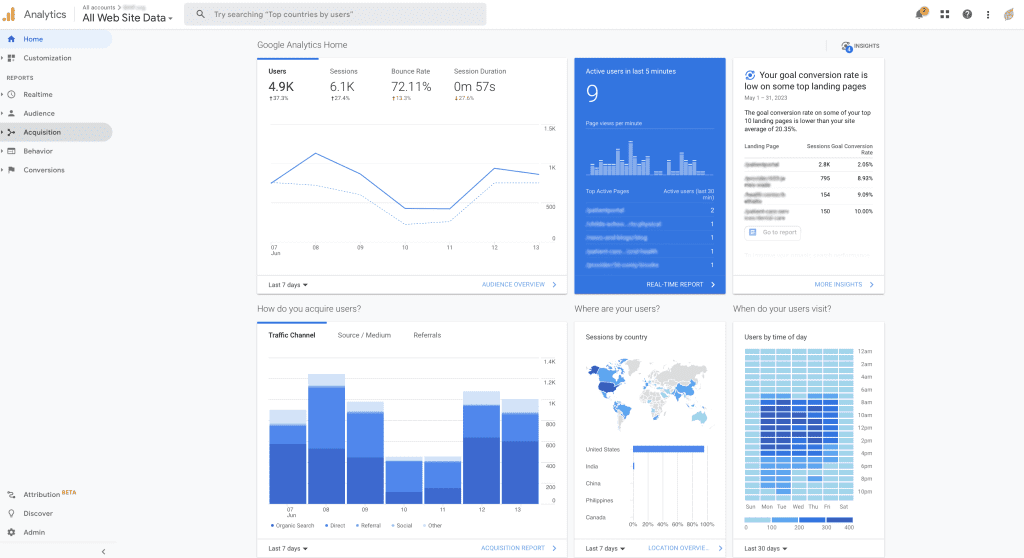 Google Analytics 4 Migration to Event-Based Data
Previously, Universal Analytics used session-based data to track website metrics. Now, the Google Analytics 4 migration is using event-based data. The difference between the two is how they follow and label how long someone is active on your page. Universal Analytics grouped all their hits, also known as an interaction, as a session. In GA4, hits are grouped and labeled as an event with a session ID. Each session ends after 30 minutes of inactivity, and sessions transfer over as the same hit after midnight. This means that Google Analytics will be more accurate and comprehensive. Session-based data provided limited information, whereas event-based data tracks touchpoints and articulates the entire customer journey – from start to finish and across multiple devices. This means that your business can stay ahead of your customers' wants and needs.
At Cork Tree, we specialize in event-based tags and tracking. Our team of experts has years of experience in helping businesses across various industries, such as construction and healthcare, gain a competitive edge over their rivals. Let us help you unlock your full potential and achieve your goals.
Hit Type Changes
A hit is the type of interaction someone has on a website. For example, a hit could be a scroll, page view, or click that Google Analytics tracks. On Universal Analytics, hits were tracked by a hit type, but now they are tracked as an event. Events allow analytics to measure a specific interaction on a website or app. Events can be a user loading a page, clicking a link, or completing a purchase. Changing from hit type to events better aligns with GA4's event-based data model.
Cross-Device and Cross-Interaction Tracking
UA and GA4 have different approaches to tracking user activity. A major advantage of GA4 is its ability to seamlessly track users across multiple devices and throughout all stages of their engagement. This allows businesses to gain a more comprehensive understanding of their users' behavior and tailor their marketing strategies accordingly.
The Ban of Cookies
Many people have privacy concerns with Cookies because it tracks personal information. These concerns influenced Google Analytics 4's switch from Cookies to Google Tag Manager. Now, GA4 uses Google Tag Manager to follow online users' behavior and different moves anonymously. Additionally, Google Tag Manager allows for better customization and control over the tracking process, giving users more transparency and peace of mind.
Migrating to Google Analytics 4
Although this new program is complex and detailed, it only takes a few steps to download. Follow the following steps to switch from Universal Analytics to Google Analytics 4. We understand that transitioning from Universal Analytics to Google Analytics 4 might be a challenging task. However, rest assured that Cork Tree has ample experience in this area, and we can provide you with the necessary guidance to make the process as seamless as possible. Our Google Analytics 4 migration services mean our team is here to assist you every step of the way, ensuring that your data is safe and secure.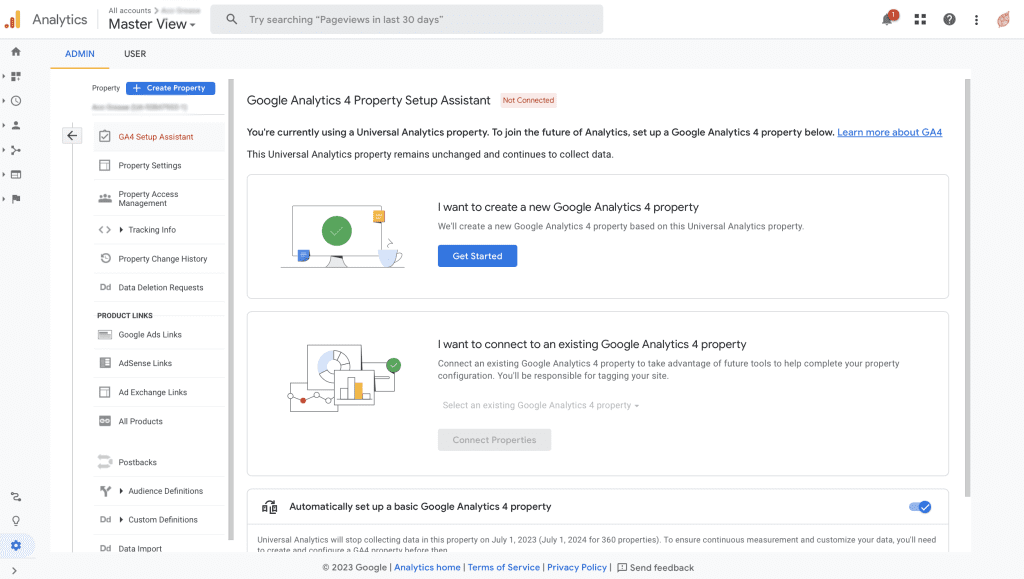 Create a Google Analytics 4 Account
Before creating your GA4 account, you must sign into your regular Google account or create one if you do not have one. After you are logged into your Google account, find the Google Analytics Homepage, and click on the "Start for free" button.
Here, you will be asked to:
Create an account name,
Enter your property details (these are your different online assets like a website, app, or blog), and
Enter information about your business.
After entering the previous information, click "Create," agree to GA4's terms of services, and return to your GA dashboard.
Set Up a Data Stream
Before setting up a data stream for collecting data, double-check that you have selected the correct account name and property.
Next, select the "Web" option and add your domain URL, name your data stream, and select which web protocol you are using.
An additional feature of GA4 is enhanced measurements. You can choose if you want this, or specific things measured in this section by clicking the small "Settings" icon.
Add an Analytics Tag to your Web Pages
To improve the data collection process on your website, you may want to consider enhancing your analytics tag. One way to do this is by adding additional tracking parameters that can provide more detailed insights into user behavior. You can set up an analytics tag using Google Tag Manager or the "G-" ID. You can also integrate your analytics tag with other tools, such as heat maps or session recording software, to gain a deeper understanding of how users interact with your site. Keep in mind that any enhancements you make should be carefully tested to ensure that they do not negatively impact site performance or user experience.
Archiving Your Universal Analytics Data Before July 2023
Google Analytics is discontinuing Universal Analytics on July 1, 2023, so it is time to start getting yourself acquainted with Google Analytics 4. We know navigating this change can be confusing, irritating, and overwhelming, so seeking help from a trusted marketing agency with a Google Analytics 4 certification like Cork Tree Creative. Get in touch with our team to leverage GA4 and understand your analytics.